The hamlet of Topiło forms the focal point of the southwest of Białowieża Forest. Its reservoir, the only water-body in the Polish side, makes for a refreshing change, and the boughs of the old-growth reflect in its waters. Nearby are many nature reserves, replete with ancient bog, deciduous and coniferous forests. In summer there's also a café and shop to refresh yourself. An alternative start point is the hamlet of Sacharewo, really only a few foresters' huts, near to a magnificent series of nature reserves. By parking in either of these places, you'll be in a good location to pick one of the trails below. Consider going off piste; you can't go wrong exploring the reserves flanking the Leśna River.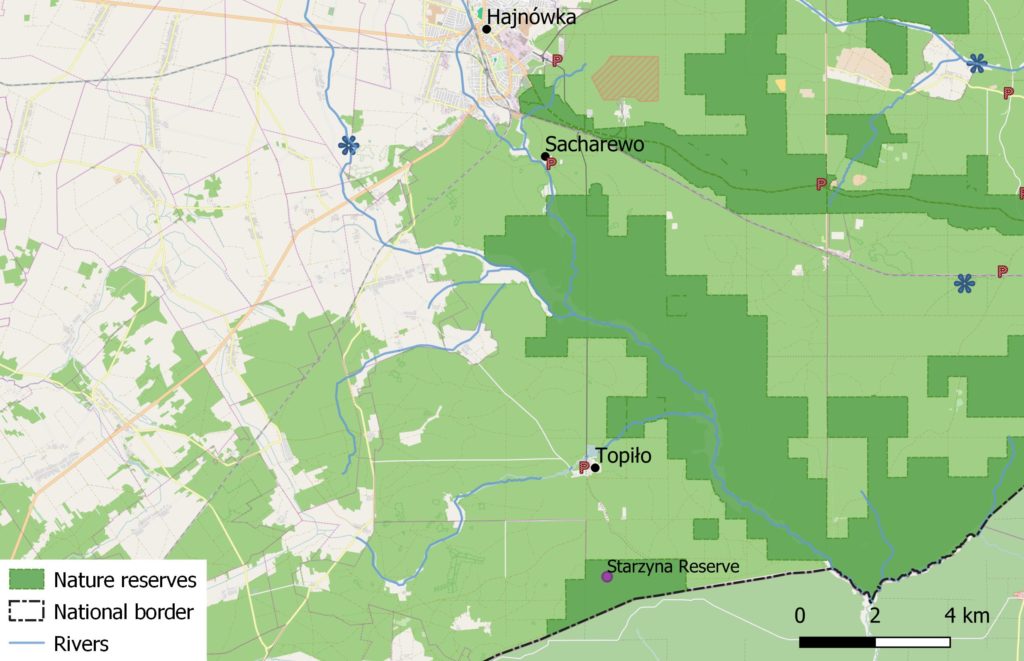 Topiło Resevoir
The hamlet of Topiło is buried deep in the forest just 3 km from the Belarusian border. Its name originates from the Polish word topić, meaning to drown, which apparently refers to livestock that would sometimes drown in mid-forest wet meadows. German forest workers established the hamlet during WW1. They also built the narrow-gauge railway that now functions as a tourist attraction. After the war, Polish foresters settled in the village. In 1933, they dammed the Perebel River to create a reservoir for storing logs prior to export. The lake retained its function for a few years after the war, but lost its original function by the 1960, after modern transport infrastructure was developed. You can see the lake in the banner at the top of this post, or this facebook post's drone footage.
Mode of transport
Park in Topiło or Sacharewo, from where you can walk or cycle.
How to get there
You'll have to drive, as both Topiło and Sacharewo are a far from the main accommodation centres. Sacharewo is a kilometer off the Białowieża-Hajnówka highway. Whereas Topiło is a roundabout route through Hajnówka and Orzezkowo; expect it to take an hour to get there from Białowieża.
Trails
1) Lesser spotted eagle educational trail
| | | | | |
| --- | --- | --- | --- | --- |
| Time | Distance | Mode | Difficulty | Park at |
| 1 – 1.5 h | 4 km | Walk | Easy | Topiło |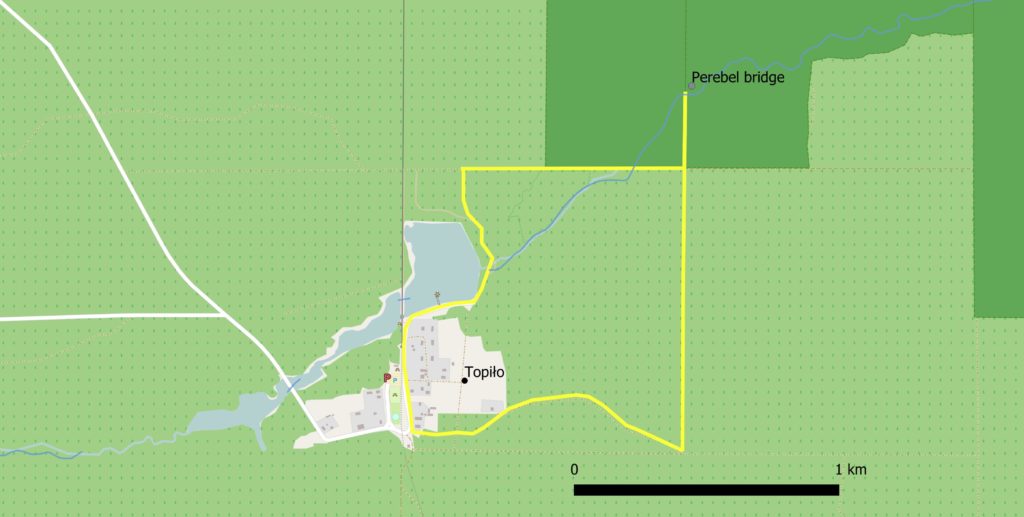 A short but sweet trail with many educational noticeboards en route. These will teach you everything about the lesser-spotted eagle, a primary conservation species in the forest. Head north out of the village around the reservoir. After entering the woods, you will pass through some typical Białowieża bog forests as you travel east. After 1 km, before turning south, visit the bridge over the Perebel River, spanning a picturesque boggy valley. Then, head southwards into a new scene comprising Białowieża Forest's typical oak-lime-hornbeam forest. As you turn westwards, you'll pass a surprising number of elm trees, not yet killed by the Dutch elm disease outbreak that has been ravaging the species across the continent. It's the perfect walk if you're just stopping by for a short while.
2) Sacharewo trail
| | | | | |
| --- | --- | --- | --- | --- |
| Time | Distance | Mode | Difficulty | Park at |
| 3 h | 8 km | Walk/cycle | Easy | Sacharewo |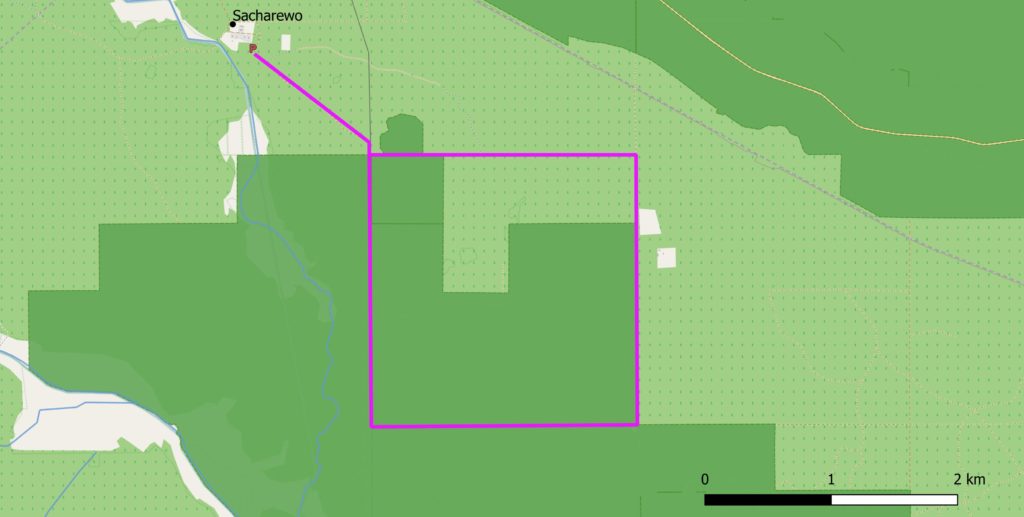 There's not much so say here. This is simply a nice circular (cuboid) walk around a selection of nature reserves. The forest here has seen some logging in the past; notice how there are few really old trees. It seems the fattest, oldest trees were selectively logged at somepoint. Still, here you'll find a selection of well-preserved boggy alderwoods and deciduous oak-lime-hornbeam forest. One of the major benefits is that it's a quiet area. I've never seen another tourist in the area.
3) Go off-piste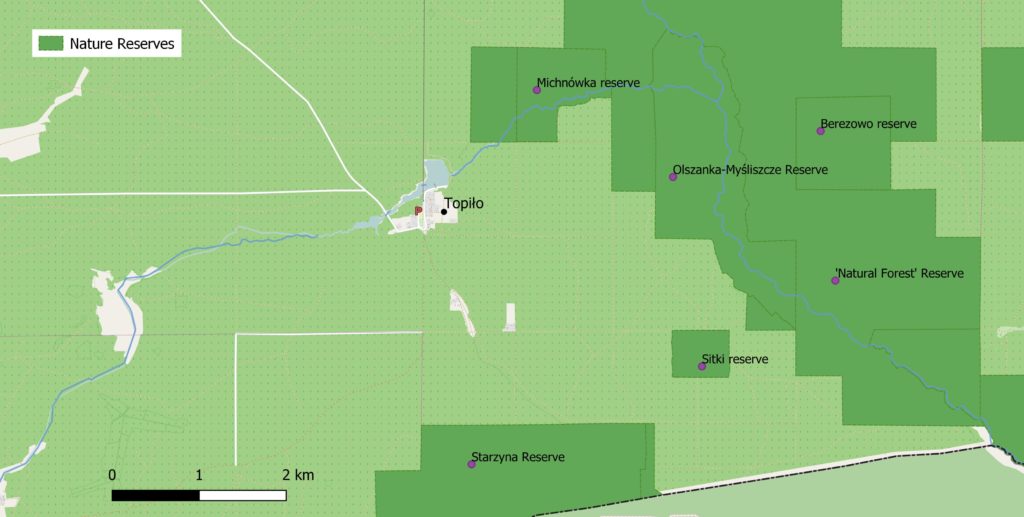 The southeast is ideal for designing your own route. Accidentally stumbling upon a ancient wilderness is one of the finer pleasures of exploring Białowieża Forest. This area is full of well-preserved old-growth woodland, and is criss-crossed by a dense network of forest tracks, all of which are open to the public. One option is to head east from Topiło, to the vast nature reserves straddling the Leśna River. Michnówka, Sitki, Berezowo and Starzyna nature reserves are easily accessible and showcase different varieties of Białowieża old-growth. The 'Natural Forest' and Olszanka-Myśliszcze reserves on the other hand, have a distinct lack paths inside them. Just remember to take a map and compass or GPS and you should easily be able to find your way around.
Option 2 and especially worth a visit is the Starzyna Nature Reserve, on the Belarussian border. Created in 1979, this is one of the older protected areas in the forest. Aside from its exquisitely well-preserved tree stands, the reserve was also intended to conserve one of the last breeding sites of the capercaille. Although the latter is now presumed extinct, the forest is some of the best in the region.
Other activities
The narrow gauge railway is old steam train travelling between Hajnówka and Topiło. Although it's probably rather uninteresting to the active, exploring type of tourist, if you're looking for a lazy view into the forest, it may be your cup of tea. It takes you through some exemplary old-growth forest, along old tracks originally laid by German forest workers during WW1 to ferry out their plundered logs. It runs a regular schedule during the holiday season or by private appointment during the rest of the year.
Lunch
Ostatni Grosz 'the last grosz (cent) in Topiło. A tourist restaurant that should be open during holiday season.
Or stop by a restaurant in Hajnówka on your way home…
Babuszka – A bistro with tasty, hearty local food.
Pizza Vera – The best pizza in the region.