There are a variety of restaurants in Białowieża for visitors to choose from. Most serve hearty, traditional regional cooking. As elsewhere in Eastern Europe, the standard is a 2-course meal: soup followed by a meat dish that usually includes carbs (potatoes or chips) and salad/veg. Pierogi (Polish dumplings) and wild game (even bison) are also widely available. Those who like meat should be easily satisfied. For vegetarians the options are unfortunately limited. Restaurant owners seem to have not yet realised the demand for alternatives. In most locales you'll be limited to the vegetarian variations of pierogi or placki ziemniaczane (potato pancakes). Be careful with the soups, because they more often than not are based on a meat stock base. Thankfully signs of change are now emerging. The Leśna Dziupla bistro added a few tasty vegetarian options to its menu. The owner tells me these have proven very popular with customers (like myself!), and that she is planning more dishes for the coming months. Let's hope the other restaurants soon follow suit. In the list below you will find a selection of restaurants, differentiated by quality and expensiveness. The first three have similar prices and quality of food, but have limited menus and only one has vegetarian options. The following two are more upmarket (and expensive), and include waiter service and more extensive selections of dishes. Finally, there is the Pizzeria, which is a reasonable alternative should you fancy a change from the traditional options.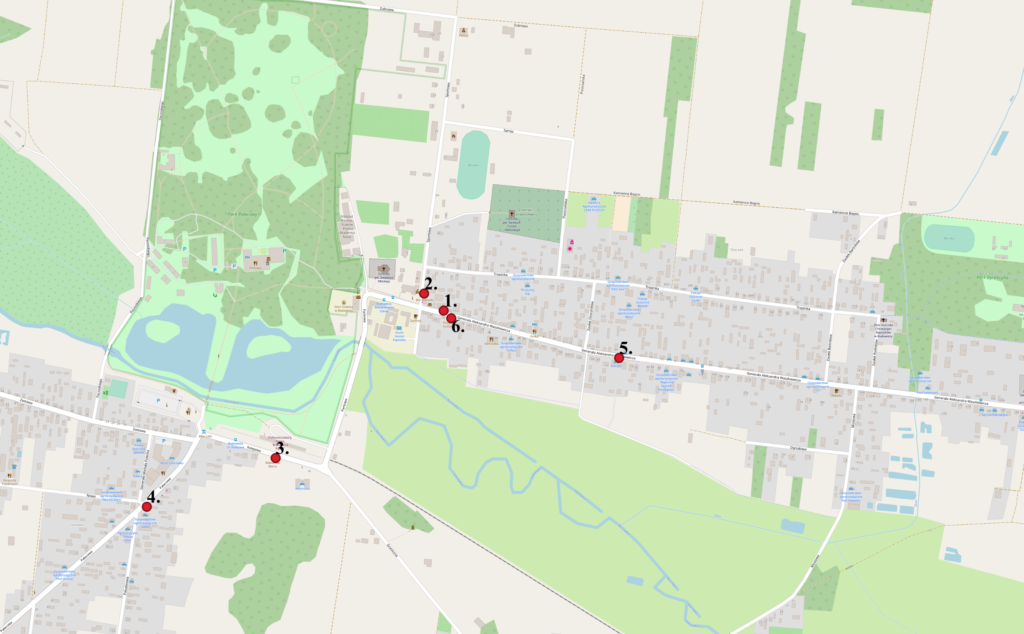 Restaurants in Białowieża
1. Leśna Dziupla – An intimate and friendly bistro, and my current favourite budget locale. The service is quick, the prices are reasonable and the dishes are sizeable. I recommend the barszcz soup (beetroot soup, on a meat base) and the gulasz stew; for vegetarians, the hreczniaki (battered buckwheat and cottage cheese cutlets with a mushroom sauce and salad). Open seasonally.
2. Biesiada – Friendly owners, tasty home-cooked food and décor characteristic for a traditional Polish tavern. The only downside is that the menu is usually restricted to 4-5 dishes, with no vegetarian options (aside from pierogi and potato pancakes). Open year-round.
3. Babuszka – Recently opened (in late 2017) and centrally located, this is a nicely decorated and atmospheric bistro. The food is tasty, but the only options for vegetarians are pierogi and potato cutlets. The (only) major downside of this locale is the serving of the food on plastic plates with plastic cutlery. This is neither ecological and feels somewhat of a let-down for an otherwise classy restaurant. Open year-round.
4. Pokusa – An all-round good-quality restaurant and my recommendation should you feel like splashing out. Expect to pay at least 50% extra than at the restaurants listed above. For the price you get speedy waiter service, a variety of craft beers and a wide-ranging menu that includes game, salads, and fish. Pescatarians will enjoy the fish dishes; I highly recommend the pike-perch that comes with green beans and a blue-cheese sauce. Open year-round.
5. Stoczek 1929 ­– Elegant and cosy and set in a classy inter-war building, but rather expensive. You can expect a broad selection of regional dishes that are attractively served. Open year-round.
6. Pizzeria Siciliana – An adequate alternative for when you fancy a change from the regional cuisine. The pizzas are nothing to rave about, but aren't bad. Good prices, quick service and open year-round.
Restaurants in other Białowieża Forest villages:
If you are out on a trip to the forest, particularly if you are cycling through the villages of Teremiski or Budy, then there are lunch options here too. See Polana Żubra in Pogorzelce, and Karczma Osocznika or Zjazd Myśliwski in Budy. Expect the usual regional dishes. May be closed outside of the summer season.
Food stores
For those wanting to cook at home, there are few small shops and one supermarket. The small shops are open till 21:00/22:00 on weekdays, and the supermarket till 21. Due to the recent Sunday trading ban, most shops will be shut on most Sundays. If you really need to go shopping on a Sunday then Pod Sarenką near the Pizzeria should be open.