Anemities in Białowieża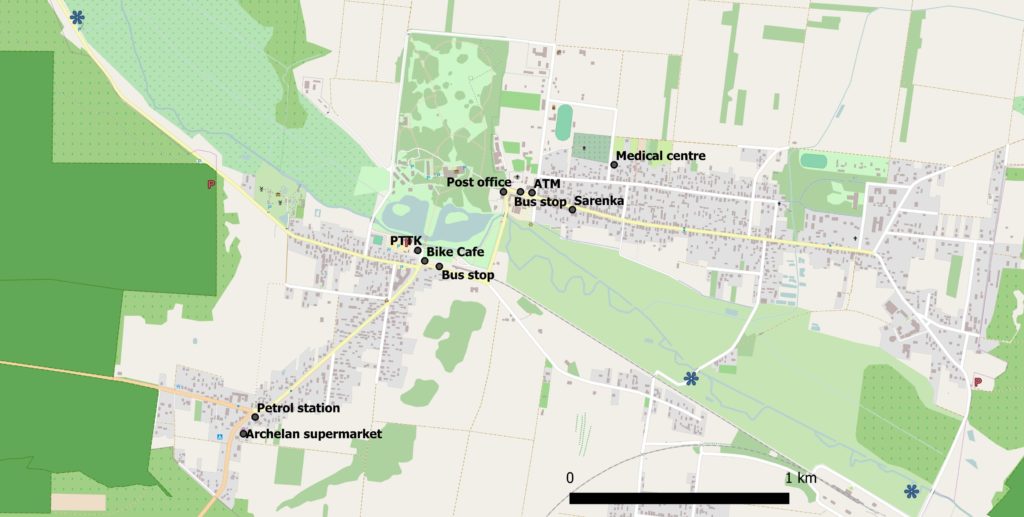 ATM/Cash machine – The village has two ATMs. One is on the outside the municipality offices at Sportowa 1. Another can be found in the Petrol Station at Pałacowa 73.
Bike rental – The best place is Bike Café at the entrance to the Palace Park at Kolejowa 13. This bike rental doubles up as a relaxing spot to sip coffee and local beer.
Bus stop – Although you can board a bus at the many stops on the main road through the village, there are more major stops beside the Orthodox Church and Bike Café. Buses travel to Hajnówka and Białystok several times and to Warsaw once a day.
Doctor's clinic – head for the medical centre. A GP is here most weekdays. The clinic accepts European health insurance cards.
Petrol Station – There is only one in the village at Pałacowa 73. Aside from petrol, it doubles up as a beer and wine shop. Petrol stations can be also be found in Hajnówka and Narewka.
Pharmacy – There is a pharmacy at the medical centre at Puszczańska St 2. It's open till 4 pm on weekdays.
Post office – if you want to mail a card, the post office is located near the Orthodox Church at Parkowa 2.
Railway station – The nearest is in Hajnówka. From there trains travel to Białystok and Warsaw. The journey to Warsaw takes 3.5 h with a change in Siedlce or Czeremcha. Direct trains to Warsaw should start in 2021, after renovations on the line complete.
Sunday shopping – The recently implemented Sunday shopping ban severely limited which shops can open on Sundays. 'Sarenka' at Stoczek 38 is the only place open on Sundays with any regularity. Here you can buy basic food-stuffs, meat for the BBQ, and alcohol.
Supermarket – The biggest shop in Białowieża is Archelan, at Grudkowska 3, next to the petrol station. Here you can find everything you expect to find at a small supermarket, including BBQs, a deli counter, and fresh fruit/veg. You can find bigger supermarkets like Kaufland and Biedronka in Hajnówka.
Tourist information/Tourist Guides – If you want to hire a guide and haven't prearranged one, then the PTTK 'Polish Association of Tourism and Sightseeing' tourist office can help you. It's at Kolejowa 17, near Bike Café.
See my other posts if you're looking for restaurants or tourist information.